GlobalLink® Project Director
GlobalLink Project Director streamlines the entire process of managing complex localization requirements for both online and offline content.
Project Director provides powerful business process automation, flexible integration capabilities, translation vendor management and project workflow capabilities in an intuitive, web-based platform. As the flagship application of the GlobalLink Localization Suite, Project Director can be easily configured to meet any enterprise translation requirements.
Email us with your details to schedule a demo.
---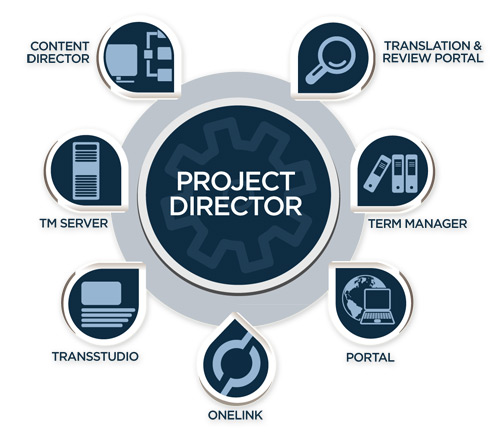 Key Advantages of Project Director
Flexible Architecture – Available as an installed or SaaS application to meet any IT requirement.
Configurable Workflow – Object-oriented visual workflow engine allows for simple creation of custom processes for multiple projects, vendors, and file types.
Translation Memory Integration – Integration with GlobalLink TM Server provides all involved language providers with real-time access to the most current and accurate translation memory assets. The use of Translation Memory reduces cost, accelerates turnaround times, and maintains absolute consistency in all content.
Vendor Management – Supports any combination of internal or external translation resources; stores rate and turnaround time metrics.
Simple Integration – Connects to any CMS or back-end system via a published web-services API or installed content mediator.
Business Process Automation – Parses virtually any file format and creates comprehensive localization kits for internal or external vendors automatically.
Project Management – Tracks all translation projects in real-time across the entire enterprise and generates customized reports on-demand.